First Look: Hunger Games Character Posters
There's a little over 5 months till the theatrical release for The Hunger Games, but today we have the first look at character posters! These posters were spread out over several media sites, but I– your good nerd, have compiled them all for you here on Nerdgasm Noire!
Do you have a favorite character? Is there anyone you're rooting for to get out alive? Let us know in the comments below!
Have you noticed how one of these pictures is not like the others? Katniss is the only who's facing right! Everyone else faces the left. What do you think this means?
All character profiles courtesy of Wikipedia~! Spoilers expunged as much as possible!
Katniss Everdeen is the main character of Suzanne Collins's The Hunger Games trilogy.[1] Her name comes from an edible plant called katniss.
Katniss and her family live in District 12, the poorest and least populated district in the fictional nation of Panem, located in the former North America. District 12 is a coal-mining district, located in Appalachia. The novel The Hunger Games takes place in the future, and 74 years after the 13 districts rebelled against the Capitol and were crushed, with District 13 being utterly destroyed and the Capitol instituting an annual event called "The Hunger Games" to punish the districts. The Hunger Games are to demonstrate to the districts the futility of resisting the Capitol. In the Games, one male and one female between the ages of 12 and 18 are selected annually from each district and are designated to be tributes. The tributes are transported to an arena, where they fight to the death, with the last surviving tribute being declared the victor.
Collins has described Katniss as being an independent survivalist, lethal, but good at thinking outside the box.[5] Katniss's past hardships (her father's death, mother's depression, and near starvation) have made her a survivor, and she will endure hardship and hard work to preserve her own life and the life of her family.
Katniss will be played by  Jennifer Lawrence
Rue (female) — She and Katniss become allies. She is 12 years old, with dark brown hair, skin, and "golden brown" eyes. She is similar in size and demeanor to Katniss' sister Prim, which is a major factor in Katniss' decision to team up with her. She is the oldest of six children and worked in the orchards for her district, which specializes in agriculture. Her love of music inspires her to teach Katniss a simple four note melody which she used to signal quitting time in the orchards back home. Katniss and Rue use this melody as a signal call to each other to let them know they're both safe.
Rue will be played by Amandla Stenberg
Peeta Mellark (Pronounced: Pea-tah or Pee-tuh as in Pita Bread) is one of the protagonists of The Hunger Games trilogy by Suzanne Collins.[1] He is the male tribute from District 12, picked alongside Katniss Everdeen to participate in the 74th annual Hunger Games, a competition forcing children from 12-18 years of age to fight to the death on live television to remind the citizens of the Districts in the futuristic dystopia of Panem not to rebel against the ruling Capitol.
Katniss knows that Peeta is gentle and kind, but when he is threatened, fights like a maniac. He's bold; he announced he was in love with her to the entire nation. He's kind and she thinks of him as a "dandelion in the spring".
Peeta thinks very well on his feet and has a very likable personality and a flair for showmanship. He is also wise beyond his years in his approach to the Games and is able to work with Haymitch on goals and strategy. Unlike Katniss, he is able to keep a secret and is trusted by Haymitch. Peeta is very selfless, and willing to do anything to protect Katniss. Peeta is also very persuasive, able to sway crowds in his likable way and have them do what he says. It was his declaration of love for Katniss that began to sway the crowd to rethink the morality of the Hunger Games. Peeta is an excellent liar, but only lies to protect the people he loves.
Peeta will be played by  Josh Hutcherson
Gale Hawthorne  is two years older than the main protagonist, Katniss Everdeen. His father was killed in the mine explosion that also killed Katniss's father, leaving his mother, Hazelle, a widow. He first saw Katniss at the ceremony after the deaths of their fathers, where they were each awarded the Medal of Valor for being the oldest children of the deceased coal miners. He and Katniss met again in the forest later when she was 12 and he was 14, first as hunting rivals then as friends hunting together to provide for their families. Gale taught Katniss how to make snares, and she says he has a special gift for creating them.
He is bitter about his circumstances and the inequality he lives with, including the inequity between those who live in the Seam and those who live in the town; Katniss lets Gale vent his anger while they hunt together in an effort to keep him from being otherwise overheard by those who would punish him for his rebellious nature.
Gale will be played by  Liam Hemsworth
Cato (male) – Katniss considers Cato to be her and Peeta's most fearsome opponent because of his size and strength, skill with many weapons, and savage pleasure in killing. Like most Careers, Cato has complete confidence in his abilities and expects that he will be the victor.
Cato will be played  Alexander Ludwig
Haymitch Abernathy is one of the main characters of Suzanne Collins's The Hunger Games trilogy. 24 years before the series begins, he became the victor for District 12, at the 50th Hunger Games.[1] During the following years, he served as a mentor for the District 12 Tributes. Due to the horrors he experienced and his own pain at his forced participation, he became an alcoholic and spends most of his time drunk.
Haymitch can sometimes be extremely rude when he is intoxicated. However, he displays much kindness and honesty toward Katniss, and often tells her exactly what might happen without worrying about scaring her. He is very blunt and sometimes regrets how cruel he can be when joking, like in Mockingjay when he asks a grieving Katniss if she's still having "boy trouble." Despite his hard exterior, he really does love Katniss and Peeta, they being the only people in his life. He is often used as a comic relief in a way with his sarcasm. He is a big help to Katniss in the Hunger Games.
Haymitch will be played by  Woody Harrelson
Cinna — Katniss's stylist, responsible for her public appearance. After designing the spectacular outfits of the opening ceremony, which include igniting Katniss and Peeta's costumes with synthetic fire, he nicknames Katniss, "the girl on fire." Cinna is in his first year as a stylist for the Games, and he specifically requested he be assigned to District 12. His audacious designs immediately win over the audience in favor of the District 12 tributes. Despite (or perhaps because of) his professional interest in image, Cinna proves to be better than most at seeing through the superficial spectacle of the Games to their barbaric core, "using [her] outfits as a vehicle to express potentially dangerous ideas."[16] He and Katniss establish an easy, comfortable relationship and he demonstrates a genuine concern for her well-being
Cinna is very different from the other inhabitants of the Capitol; he does not use surgery to alter his features, wears simple black clothes, and leaves his hair its natural dark brown color, close cropped. His only evidenced feature is a slight touch of gold eyeliner that brings out the gold flecks in his eyes.
Cinna will be played by  Lenny Kravitz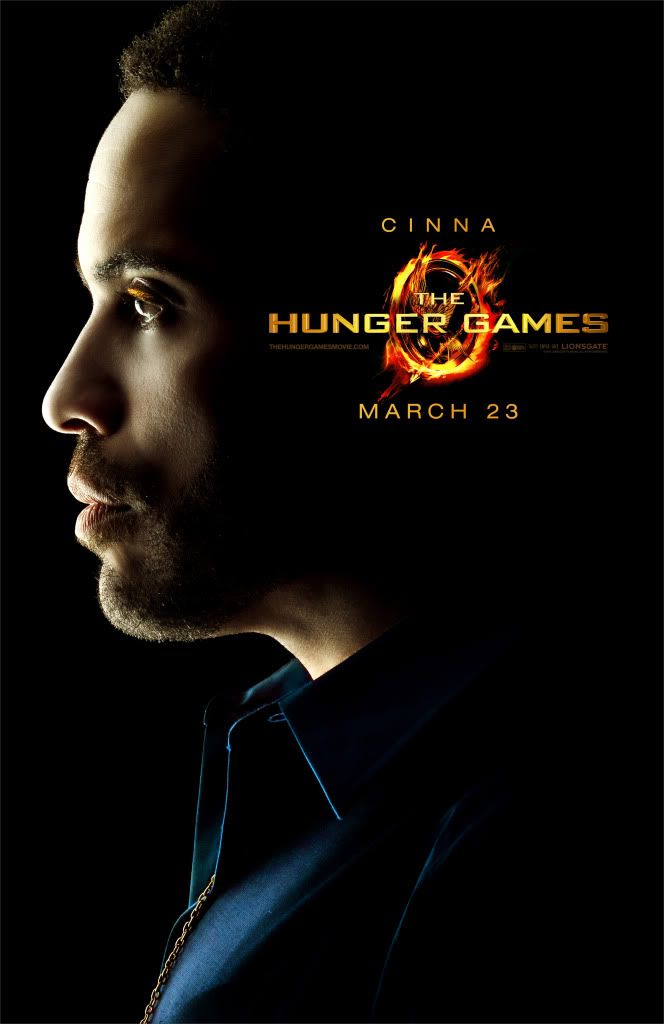 Effie Trinket — Effie works as a chaperone for District 12 in the Hunger Games, particularly to Katniss and Peeta, carrying out such tasks as drawing the tributes' names at the reaping and escorting them to the Capitol. At first, she detests her association with District 12, trying to be promoted to a better, richer district. Effie later becomes attached to her District 12 acquaintances. Effie has bright pink hair that appears to be a wig. She seems totally oblivious to the misfortunes of District 12, although whether this behavior is intentional is unknown. She is very strict about manners and is always punctual.
Effie will be played by Elizabeth Banks